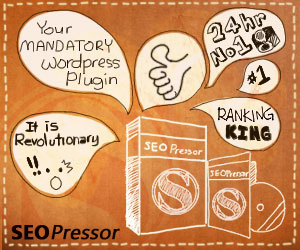 SEOPressor is a WordPress plugin used for on-page optimization needs.
You may have spent countless time and effort improving and optimizing your site SEO, but do you know how to improve on-page SEO? Your site may have a PR 6 but how is PR # for individual post?
Some of the WordPress SEO package does provide means to improve on-page SEO, but there are no benchmarking and suggestions on improving your on-page SEO.
SEOPressor Scores and Recommends
With its "secret" algorithm (" …works in the very manner that the Google search engine works to rank its websites," said Daniel Tan, the developer of SEOPressor and one of the most reputable SEO gurus), based on the keyword, SEOPressor analyzes your post, scores and provides suggestions on how to improve on-page SEO.
SEOPressor suggestions may include the proper use of H1, H2, H3, image and external link(s).
If you are really into improving your site and on-page SEOs, SEOPressor is a must.  The money is well-spent.
Once you have been trained by the software, you may do without the plugin as the routine becomes second nature to you.
SEOPressor and All in One SEO Pack
Together with All in One SEO Pack, you may dramatically improve your on-page SEO dramatically.
You may use All in One SEO Pack in default settings, but be sure to add 160-words description, as it plays important role in google search result ranking. But be sure to summarize your post with plenty of your target keyword.
Disclaimer:
The author is a user and an affiliate of SEOPressor.  This article is for information purpose only, please purchase the product based on your own analysis. But with 100% guarantee, what are you awaiting for? Like the author, you will not regret your decision. If you don't like SEOPressor, you can always get your money back.